The Wilson Inlet is a special place
The Wilson Inlet is fed from the Denmark and Hay Rivers and is less than a kilometre south of town. Embraced by the Nullaki peninsula on the southern side, this majestic water is divided from the ocean by a sandbar which covers the opening much of the year. Denmark Town, about a kilometre up-river along the Denmark River is on the northern side of the inlet.
For walkers and bikers, the Heritage Rail Trail along the northern side of the Wilson Inlet offers incredible views of the inlet while surrouned by native forests.
The Wilson Inlet is over twenty kilometres long and covers an area of 2,263 sq. km. The quiet and peaceful Inlet has many places to sit and enjoy the view.
Home of the State Emblem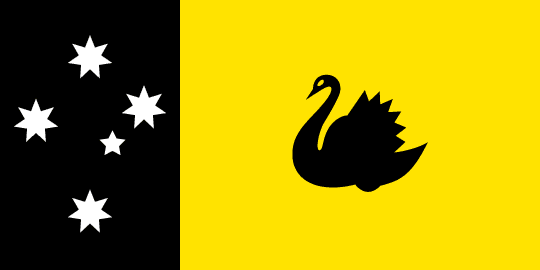 Known as Koorabup (Kwoorabup) "The Place of the Black Swan" by the Noongar, the Wilson Inlet is a haven for these majestic birds which are the Icon (on the flag>>) of Western Australia.
The Sandbar & Digging the Channel
The sandbar, for most of the year, divides the inlet from the Southern Ocean, however (almost) every year a channel is dug to reduce the water level of the Inlet (which if left unchecked will flood roads and properties). More information on the sandbar and digging the inlet channel can be found below.
Not too deep
The Inlet has an average depth of 1.8 m below mean sea level, and a maximum depth of about 4 metres below mean sea level. The relatively shallow but expansive size of the Inlet makes it perfect for many species of fish to thrive.
Tree-lined banks
The coastal plain has dense woodland, heath, Jarrah and swamp lands and many species of plants are native only to WA. The soils is made up of clays, gravel, silts and sand with approximately twenty species of mammals, numerous reptiles include tiger snakes and skinks living along the banks of the Wilson Inlet.